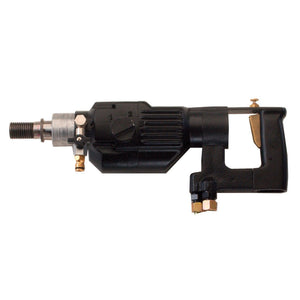 Core Drill CD10
---
Please contact us if you are interested in this product.
---
** All prices are ex GST**
The CD10 is well suited for drilling concrete, masonry and asphalt materials. It can be operated freehand or mounted in an optional drill stand. The CD10 maintains speed regardless of drill load improving the life of the bits. The CD10 features a three-speed gearbox which provides a speed selection to match the best speed for the range of drill bits. It comes with a metal carrying case, water connection with control valve, and a drilling aid to assist in starting freehand drilling without drill bit walk, hose whips and flush face quick disconnect couplers.
Specifications
| | |
| --- | --- |
| Application:  | Drilling concrete, masonry and asphalt materials.  |
| Capacity:  | 5/8 to 6-3/8 in. Dia. Core Bits  |
|  Hyd. Flow:  | 5-13 gpm / 22-50 lpm  |
| RPM:  | 380, 900 & 1800  |
| Width: |  4 in. / 10 cm  |
| Length:   | 19 in. / 48 cm |
| Weight:  | 18 lbs / 8.5 kg |
| Connection:  | 1-1/4 in. UNC Male, 1/2 in. UNC Female and 1/2-5/8 in. Male Adapter |
| Connection: |  3/8 in. flush face quick disconnect couplers |
Downloads