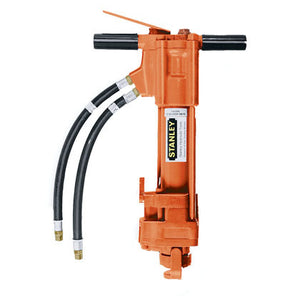 Hammer Drill HD45110B
---
Please contact us if you are interested in this product.
---
**All prices are ex GST**
The HD45 is designed for drilling holes in concrete, rock, HAMMER DRILL or masonry from 3/4 in. / 19 mm to 2 in. / 50 mm in diameter and up to 29 in. / 73.7 cm deep as well as core drilling up to 4 in. / 102 mm in diameter. The HD45 uses a Skil 736 shank, carbide tipped, fluted drill bits and requires no fluid or compressed air to clear holes during operation. The HD45 features a feathering trigger for easy starts, adjustable rotation speed (both forward and reverse), and is furnished with hose whips and flush face quick disconnect couplers.
Specifications
| | |
| --- | --- |
| Application:  | Drilling holes in concrete, rock, or masonry. |
|  Capacity:  | #736 Skil Hex  |
| Hyd. Flow:  | 7-9 gpm / 26-34 lpm  |
| Weight:  | 45 lbs / 20 kg  |
| Length:  | 22 in. / 57 cm  |
| Width:  | 14 in. / 35 cm  |
| Connection:  | 3/8 in. flush face quick disconnect couplers |
Downloads