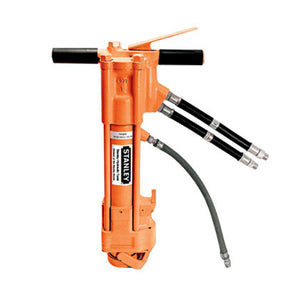 Sinker Drill SK47130
---
Please contact us if you are interested in this product.
---
**All prices are ex GST**
The SK47 is designed for blast hole drilling, leak detection for gas utilities, and dowel hole drilling up to 2 inches / 5 cm in diameter and 10 feet / 3 m deep. The sinker drill uses air flushing to clear holes of debris. The air flow automatically is shut off when the drill is Off. The SK47 is light and easy to handle. It is ideal for applications requiring frequent moves on the job site. It features a feathering trigger for easy starts,adjustable rotation from 0 to 300 rpm, and is furnished with hose whips and flush face quick disconnect couplers.
Specifications
| | |
| --- | --- |
| Application:  | Blast hole drilling, leak detection for gas utilities, dowel drilling. |
| Capacity:   | 7/8 x 4-1/4 in. Hex Shank Drill Steel |
| Hyd. Flow:   | 7-9 gpm / 26-34 lpm |
| Weight:   | 52 lbs / 24 kg |
| Length:   | 23 in. / 58 cm |
| Width:  | 14 in. / 35 cm |
| Connection: | 3/8 in. flush face quick disconnect couplers |
Downloads