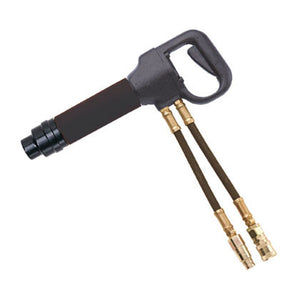 Chipping Hammer CH15
---
Please contact us if you are interested in this product.
---
The Hydraulic Chipping Hammer (CH15) is a light but powerful tool for light duty chipping applications such as manhole and utility vault modifications or masonry repair and demolition. 
Weighing in at only 16 pounds (7.25 kg), the compact size and balance of this tool makes it easy to use in confined, hard-to-reach locations.
Underwater models are also available.
Features
| | |
| --- | --- |
| Insulated | Shock and heat insulated body. |
| Ergonomic | Ergonomic design of the handle and grip provide increased control and operator comfort, resulting in increased operator productivity.  |
| Safety | The trigger is protected within the handle to prevent accidental operation of the tool. |
| Ease of Use | The floating trigger design requires minimal pressure across any part of its surface to engage the tool.  |
| Application | High power-to-weight ratio makes it the ideal tool for light concrete breaking jobs and for chipping concrete or steel.  |
| Tool Steels | Tool steels are held in place by a slide that is ball-and-spring detented. |
Specifications
Application

Chipping concrete, rock, or masonry such as utility vaults, street curbing, masonry work.

Tool Bit Size

580 hex Shank Oval Collar, Steel Bits

Hyd. Flow

4-6 or 7-9 gpm / 15-23 or 26-34 lpm

Weight 

16 lbs / 7.25 kg

Length

17 in. / 43 cm

Width

3 in. / 8 cm

Connection

3/8 in. flush face quick 

disconnect couplers