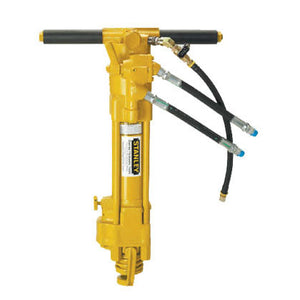 Underwater Sinker Drill SK58
---
Please contact us if you are interested in this product.
---
**All prices are Ex GST**
The Stanley SK58 Sinker Drill is a heavy duty rock drill designed for drilling underwater in concrete, rock and masonry. The feathering on/off valve makes starting the drill bit relatively easy. The SK58 uses industry standard drill steel and can drill up to a 3" (75 mm) diameter hole up to 20' (6 m) deep. The direct drive rotation motor drives the 1" x 4¼" hex shank drill steel and is adjustable between 0 and 300 rpm. Air is required to clear holes of debris. Painted hi-visibility yellow.