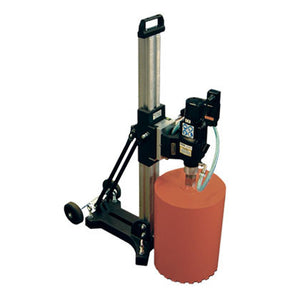 Core Drill CD10
---
Please contact us if you are interested in this product.
---
**All prices are ex GST**
The CD12 is operated from a furnished drill stand for drilling with 5/8 inch diameter up to 14 inch diameter core bits. The drill stand may be adjusted at any angle to drill holes from 45° to perpendicular. The stand can be anchored to the work surface with anchor screws or by using a vacuum pump. The stand has leveling screws and a gear feed that can be set for left or right hand operation. The CD12 has a three-speed gearbox which provides a speed selection to match the best speeds for the range of drill bits. The CD12 is furnished with wrenches for installing or removing drill bits, a water attachment, a detented ON/OFF directional spool, and flush face quick disconnect couplers. A model is available with a spacer block to increase drill diameter capacity to 14 inches.
Specifications
| | |
| --- | --- |
| Application:  | Drilling concrete, masonry and asphalt materials.  |
| Capacity: |  5/8 to 14 in. Dia. Core Bits  |
| Connection:  | 1-1/4 in. UNC Male, 1/2 in. UNC Female and 1/2-5/8 in. Male Adapter  |
| RPM:   | 500, 1200 & 2400 |
| Hyd. Flow:  | 7-9 gpm / 26-34 lpm  |
| Weight:  | 19 lbs / 8.6 kg  |
| Length:  | 19 in. / 48 cm  |
| Width: |  4 in. / 10 cm  |
| Connection: | 3/8 in. flush face quick disconnect couplers  |
Downloads