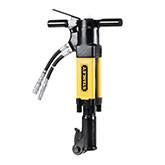 Light to Medium Duty Hydraulic Breaker BR45130E
---
Please contact us if you are interested in this product.
---
**All prices are ex GST**
The BR45 Light to Medium Duty Breakers are ideal for use in the 35-55 pound class. They excel at curb and sidewalk demolition, asphalt cutting, and are popular for ground rod driving with electric utilities. 
Features
Stanley Easi-Ride™ Foot

Absorbs and controls tool-bit bounce

Significantly reduces operator fatigue

Feathering On/Off Valve 

Allows the operator to control the output energy of the tool through the full range from 0 to 1525 blows per minute

Makes startup and initial tool placement easy. 

Diaphragm type accumulator design

Provides for ease of maintenance and extended service life of the tool

Less down-time and higher ROI
Rugged, lightweight and powerful T Handle
Ideal for use in 35-55 pound class
Ease of use and convenience

Spring-isolated, Anti-Vibration Handles*

Literally allows the breaker to float in the user's hands. 

​

Reduces operator fatigue

Built-in Handle Stops*

Allows the operator to apply full body weight in tough applications.

Increases performance
*Only on Anti-Vibration Models