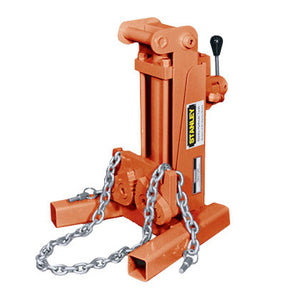 Post Puller PP10
---
Please contact us if you are interested in this product.
---
The Post Puller PP10 is designed to remove flanged type sign posts and irregularly shaped posts up to 8 in. / 20 cm wide.
For flange posts, the Post Puller PP10 uses gripper jaws to grasp the post on any convenient surface.
For irregular posts that cannot be gripped by jaws, a chain is wrapped around the post and on the occasion of a perforated post, pins on the end of the chain may be inserted into the post to keep the chain from sliding.
Features
| | |
| --- | --- |
| Chain | For use when pulling irregular posts. The chain is wrapped around the post then placed in slots on the post puller frame. |
| Pins | To insert into holes in perforated posts to keep the chain from sliding. Located on the end of the chain. |
| Gripper Jaws | To grasp flange posts on most convenient surface for pulling. Has built-in grips for "U" channel posts. |
| Carrying Handle | Easy to transport. |
| Control Valve | (Up/Neutral/Down) Controls cycle of post puller cylinder. Located on the tool. |
| Couplers | Flush face quick disconnect couplers. |
Specifications
| | |
| --- | --- |
| Application | Pulls a variety of sign and fence posts |
| Capacity | Sign posts up to 8 in. / 20 cm Wide |
| Pulling Force | 9800 lbs / 4450 kg (at 2000 psi/l40 bar input pressure)  |
| Hydraulic Flow | 3-9 gpm / 11-34 lpm |
| Weight | 70 lbs / 32 kg |
| Length | 13 in. / 32 cm |
| Width | 14 in. / 35 cm |
| Connection | 3/8 in. flush face quick disconnect couplers |
| Power Source | Can handle a wide range of hydraulic flows it can be powered by most circuits generating 2000 psi/l40 bar. Circuits generating less than 2000 psi/l40 bar can be used but, the available pulling power will be lowered |
Downloads