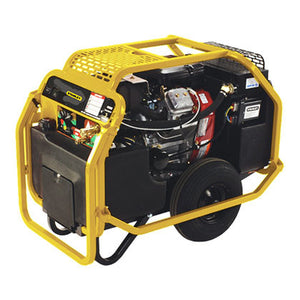 Power Unit HP12B
---
Please contact us if you are interested in this product.
---
The HP12B Hydraulic Power Unit's feature-rich, dependable operation make it the industry choice for high-flow applications.
It is engineered for continuous professional use and is optimized to deliver ideal flows and pressures to both Type 2 and Type 3 hydraulic tools.
The HP12B features a computerized all-electric throttle control system that idles-down the engine when tools aren't running, saving fuel and extending service life.
Its powerful 23 HP Briggs & Stratton engine and best-in-class cooling system deliver the power and heat rejection professionals need to keep tools working uninterrupted all day in all types of conditions. 
Meets HTMA requirements for Type 2 and Type 3 hydraulic tool circuits.
8 or 12 gpm / 30 or 45 lpm @ 2000 psi
Heat rejection capacity exceeding 5 hp.
Computerized throttle control
Quartz hour meter
Direct mounted hydraulic pump
Air-oil cooler
Lift and latch handle
Pneumatic tires
Maintenance-free battery
Hydraulic and engine oil filter
Engine oil level shut-down,
5 gallon / 20 litres fuel capacity
Specifications
| | |
| --- | --- |
| Application | Heavy-duty continuous use hydraulic power supply for both Type 2 & Type 3 tools  |
| Capacity | 8 or 12 gpm / 30 or 45 lpm  |
| Pressure | 2000 psi / 140 bar  |
| Weight | 340 lbs / 154 kg  |
| Length | 35 in. / 90 cm  |
| Width | 21.5 in. / 54.6 cm  |
| Height | 29 in. / 73.7 cm  |
| Engine | Briggs & Strattion 23 hp Van­guard  |
| Connection | 3/8 in. flush face quick disconnect couplers  |
| Heat Rejection | Up to 5 hp  |
Downloads
HP12B Power Unit Parts Breakdown
**Price is ex GST**