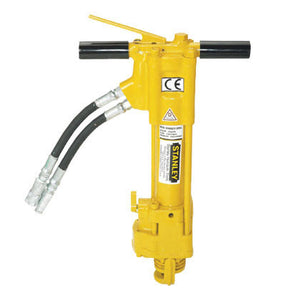 Underwater Hammer Drill HD45
---
Please contact us if you are interested in this product.
---
**All prices are Ex GST**
The feathering on/off valve and adjustable rotation speed allows easy drill bit start-up and precise control. The high torque rotation motor drives standard 736 Skil hex carbide tipped drill bits and is capable of drilling a 2" diameter hole up to 29" deep. Fluted drill bits require no water or air to clear holes. Ideal for drilling holes for setting anchor bolts. Painted hi-visibility yellow.
Features
T-Handle with large on/off trigger for precise control
Stainless Steel spools and fasteners
Forward-Reverse with adjustable bit rotation speed
Feathering on/off valve allows easy start and control
Uses 736 Skil fluted carbide tipped drill bits - requires no water/air to clear holes
Drills ¾" to 2" diameter holes up to 29" deep and core drills up to 4" in diameter
Operates in any position
Trouble free drill steel latch retainer
Downloads
HD45 Underwater Hammer Drill Spec Sheet
HD45 Underwater Hammer Drill User Manual